Inspiration to LIVE YOUR MAGIC! 75 Inspiring Biographies: First, I acknowledge the support of my wife Janet, who encouraged me to write a book, and accommodated and protected my need for solitude to read, think, and write. She also acted as a sounding board for all of my ideas, giving her honest opinion. I am grateful.
Next, I thank my business partners, especially Lewis Nakatsui and Mike Gendron, and my staff, especially Percy Pouliot, Ray Mitchell, Wesley Gunderson, and Stephen Anderson, who allowed, supported, and encouraged me to set aside Wednesdays, beginning in January 2000, to explore my passion for writing.
For this book, Inspiration to Live Your MAGIC!, I thank Glen Stone for his research into each inspiring life I selected, finding details that would convey the essence of each journey in 400 words. I also thank Cathy Reed and Mary W. Walters for editing and assistance in organizing the biographies. You have significantly improved this book. Finally, I want to thank three people who believed in and encouraged me as a writer.
I met Dave Kirk at five years of age at Daily Vacation Bible Camp in the summer of 1953, and he ended up in my grade one class that fall and in every class until grade nine, when I went to a different school. We were both outsiders and became the closest of friends, and remained so until his premature death in 2005 from cancer. He was the one person I shared my journals with throughout my journey, and he repeatedly told me I needed to write a book.
Peace to all who follow guidance (20.47)
Go in Bottom to DOWNLOAD this book!!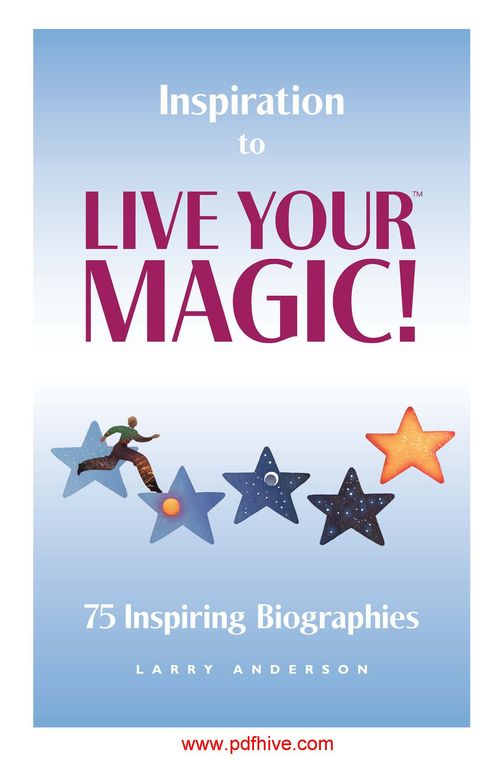 Contents of Inspiration to LIVE YOUR MAGIC! 75 Inspiring Biographies:
A.Y. Jackson
Aaron Moser
Abraham Lincoln
Albert Schweitzer
Alfred Nobel
Alice Waters
Amelia Earhart
Andrew Lloyd Webber
Anne Frank
Beatrice Biira
Beatrix Potter
Benjamin Franklin
Bertha Wilson
Beverley McLachlin
Celine Dion
Christopher Columbus
Craig Kielburger
Diane Warren
Eleanor Roosevelt
Ferdinand Magellan
Florence Nightingale
Galileo Galilei
Gordon Lightfoot
Grandma Moses
Gustavo Dudamel
Hayley Wickenheiser
Hazel McCallion
Helen Keller
J. K. Rowling
Jacques Cousteau
Jean Vanier
John F. Kennedy
Joseph Pulitzer
Laura Secord
Louis Braille
Louis Pasteur
Malcolm Gladwell
Marie Curie
Martin Luther King, Jr.
Martti Ahtisaari
Mattie Stepanek
Maude Abbott
Maya Angelou
Michael Jordan
Michael Faraday
Michael J. Fox
Michaelle Jean
Mohamed ElBaradei
Mahatma Gandhi
Mother Teresa
Nelson Mandela
Norman Bethune
Norman Borlaug
Oprah Winfrey
Paulo Coelho
Randy Pausch
Richard Branson
Robert Munsch
Roberta Bondar
Roger Bannister
Roméo Dallaire
Ryan Hreljac
Sam Walton
Sandford Fleming
Shania Twain
Shirin Ebadi
Stephen Leacock
Terry Fox
Thomas Edison
Walt Disney
Wangari Maathai
Wayne Gretzky
William "Billy" Bishop
William Harvey
Winston Churchill
Wisdom to Live Your Magic
The Journey to Live Your Magic
The editors/writer of Inspiration to LIVE YOUR MAGIC! 75 Inspiring Biographies:
Larry Anderson
Information about How to Inspiration to LIVE YOUR MAGIC! 75 Inspiring Biographies eBook

Book Name:
Inspiration to LIVE YOUR MAGIC! 75 Inspiring Biographies
Writer/Editor:
Larry Anderson
Language:
ENGLISH
Online Reading:
Yes (Full Book)
Android App:
No
PDF Download:
Yes (Full Book)
Available Format:
Online, PDF
Result:
HD (Printable)
Pages:
167
Size:
2.21 MB
Please click on the button below to read this book!

For further visit again www.PDFHive.com
If you need any PDF eBook plz write in the comment box. Your interest is appreciated.
Related Articles



About CEO of PDF-Hive

Shokat Javed
M.Phil Computer Sciences (SE)
Android App Developer (Native JAVA)
WordPress Web Developer/Administrator
Graphic Designer, Blogger
WhatsApp: +92 3056275237