Parenting With Love and Logic – Teaching Children Responsibility: We have been gratified to see the response that the world has given Parenting with Love and Logic and Parenting Teens with Love and Logic. Since these books were first published in 1990 and 1992, they have had twenty-six and seventeen printings respectively and have been translated into eight languages.
Parents on six continents — all except Antarctica — have effectively embraced Love and Logic concepts. During these years since the first edition, we have happily collected success stories of parents who excitedly and proudly told us of raising their children with choices, consequences, and empathy, as taught in Parenting with Love and Logic.
By Foster Cline and Jim Fay

Go in Bottom to Red this book!!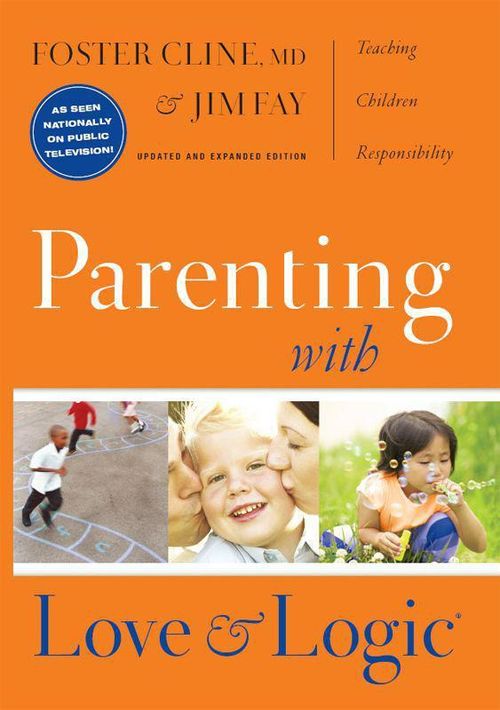 Contents of Parenting With Love and Logic – Teaching Children Responsibility:
Part 1: The Love and Logic Parent


1. Parenting: Joy or Nightmare?
Are We Having Fun Yet?
Putting the Fun Back into Parenting
2. Mission Possible: Raising Responsible Kids
Ineffective Parenting Styles
The Effective Parenting Style of Love and Logic
The Paradox of Success and Failure
Learning at Affordable Prices
To Protect Them Is Not to Love Them
Responsibility Cannot Be Taught
3. Responsible Children Feel Good About Themselves
I Am What I Think You Think I Am
The Three-Legged Table of Self-Concept
The Difference Between Praise and Encouragement
Positive Self-Esteem Comes from Accomplishment
If We're Happy, They're Happy
4. Children's Mistakes Are Their Opportunities
Mother, Please, I'd Rather Do It Myself
You Have Your Troubles, I Have Mine
The Two Rules of Love and Logic
Problem, Problem, Who Owns the Problem?
5. Setting Limits Through Thinking Words
Building Walls That Don't Crumble
How to Talk to a Child
The Threat Cycle
We'd Rather They Think Than Fight
Mean What You Say, and Say What You Mean
6. Gaining Control Through Choices
Parenting Just Gets More and More Curious
The Right Dose of Control
Waging a Winnable War with Choices
The Bad Boy in Burger King: A Case Study on Winning a Control
Battle
Choose Your Choices Carefully
7. The Recipe for Success: Empathy with Consequences
Hurting from the Inside Out
Naturally Occurring Consequences
Imposing Consequences
Consequences Don't Have to Be Immediate
It's the Empathy That Counts
8. Lights, Camera, Parenting!
Practice, Practice, Practice
What Love and Logic Is Not
It's Never Too Late to Start


Part 2: Love and Logic Parenting Tools


How to Use Love and Logic Pearls
1. Allowances/Money
2. Anger: When It's Appropriate
3. Bedtime
4. Bossiness
5. Bullies
6. Car Wars: Backseat Battles
7. Chores
8. Church: When Kids Don't Want to Go
9. Creativity
10. Crisis Situations
11. Discipline 101
12. Discipline in Public
13. Divorce and Visitation
14. Eating and Table Manners
15. Entitlement
16. Fears and Monsters
17. Fighting
18. Friends
19. Getting Ready for School
20. Giving Gifts
21. Grades, Underachievement, and Report Cards
22. Grandparents
23. Homework
24. "I'm Bored" Routine
25. The Internet
26. Lying and Dishonesty
27. Nasty Looks and Negative Body Language
28. Pacifiers
29. Peer Pressure
30. Pet Care
31. Picking Up Belongings
32. Professional Help: When to Seek It
33. The Room: Keeping It Clean
34. The Room: Keeping the Kid in It
35. Sassing and Disrespect
36. Spanking
37. Sports
38. Stealing
39. Swearing and Bad Language
40. Teacher and School Problems
41. Teeth Brushing
42. Telephone Interruptions
43. Television Watching
44. Temper Tantrums
45. Toilet Training
46. Values: Passing Them On to Your Kids
47. Video and Computer Games
48. Whining and Complaining
The editors/writer of the book Parenting With Love and Logic- Teaching Children Responsibility:
Foster Cline and Jim Fay
Information about Parenting With Love and Logic – Teaching Children Responsibility eBook

Book Name:
Parenting With Love and Logic – Teaching Children Responsibility
Writer/Editor:
Foster Cline and Jim Fay
Language:
ENGLISH
Online Reading:
Yes (Full Book)
Android App:
No
PDF Download:
Yes (Full Book)
Available Format:
Online, PDF
Result:
HD (Printable)
Pages:
305
Size:
1.87 MB
Please click on the button below to download this book!

For further visit again www.PDFHive.com
If you need any PDF eBook plz write in comment box. Your interest is appreciated.
Related Articles



[pt_view id="4ad06b756q"]
About CEO of PDF-Hive

Shokat Javed
M.Phil Computer Sciences (SE)
Android App Developer (Native JAVA)
WordPress Web Developer/Administrator
Graphic Designer
WhatsApp: +92 3056275237