Free Fire – CJ Box: I am going to provide you an honest review of Free Fire.
Welcome to our comprehensive book review of "Free Fire" by CJ Box, a riveting thriller that will keep you on the edge of your seat. In this article, we delve into the captivating world created by Box, exploring the reasons why this book is an absolute must-read for fans of suspenseful narratives. Join us as we uncover the secrets of "Free Fire" and discover the enthralling story that lies within its pages.
In the vast and untamed wilderness of Wyoming's Yellowstone National Park, a chilling tale unfolds, gripping the hearts and minds of those who dare to explore its pages. Enter Joe Pickett, a dedicated and courageous game warden, whose unyielding commitment to justice propels him into a relentless pursuit of truth.
In the aftermath of an unfathomable tragedy, Joe finds himself thrust into a case that will test his mettle like never before. A cold-blooded mass murder has stained the tranquil beauty of the park, leaving four innocent campers dead in its wake. The perpetrator, a man named Clay McCann, has shockingly confessed to the heinous crime, asserting that the killings took place within a designated "free-fire" zone—a lawless enclave without any governing authority or human presence.
Unsettling questions arise, gnawing at Joe's insatiable need for answers. How could such a malevolent act occur in a place revered for its natural wonders? Why does McCann roam free while the spirits of the deceased cry out for justice? Determined to uncover the truth, Joe embarks on a treacherous journey, delving deep into the heart of Yellowstone's rugged terrain, where secrets lie buried beneath layers of ancient history.
As Joe unearths the hidden motives behind McCann's actions, he realizes that the truth is a double-edged sword, capable of both healing and destruction. The land itself, with its majestic landscapes and awe-inspiring beauty, becomes a silent witness to the unfolding drama. With each step closer to the answers, Joe must confront not only the dangerous terrain that threatens his very existence but also the sinister forces that seek to keep the truth shrouded in darkness.
C.J. Box, the masterful storyteller behind the Joe Pickett series, weaves a mesmerizing tapestry of suspense and intrigue in "Free Fire." With his signature flair for vivid descriptions and meticulous attention to detail, Box brings the majestic wilderness to life, allowing readers to taste the crisp mountain air and feel the pulse of nature coursing through their veins.
In the face of overwhelming odds, Joe Pickett embodies the indomitable spirit of a lone wolf, fearlessly navigating the perilous waters of justice. As the stakes escalate, so does the intensity, propelling readers on a rollercoaster ride of emotions. Box's skillful prose keeps the heart pounding and the pages turning, ensuring that every twist and turn leaves readers gasping for breath.
"Don't miss the JOE PICKETT series—now streaming on Paramount+," the enticing invitation beckons, promising a thrilling journey through the realms of mystery and suspense. So, step into Joe Pickett's world, where the untamed beauty of Yellowstone collides with the darkness that lurks within the human soul. Brace yourself for an unforgettable adventure that will leave you yearning for more.

GET 100% FREE ACCESS TO THIS BOOK BY SIGNING UP HERE!
Also, check out these book sections!
Genre of Free Fire – CJ Box
"Free Fire" falls into the genre of mystery and suspense, offering readers a captivating blend of thrilling action, intense investigations, and unexpected twists. CJ Box masterfully crafts a narrative that keeps readers guessing, with elements of crime, adventure, and a touch of wilderness intrigue. The book effortlessly balances heart-pounding suspense with deep explorations of human nature, offering a multifaceted reading experience that will leave you breathless.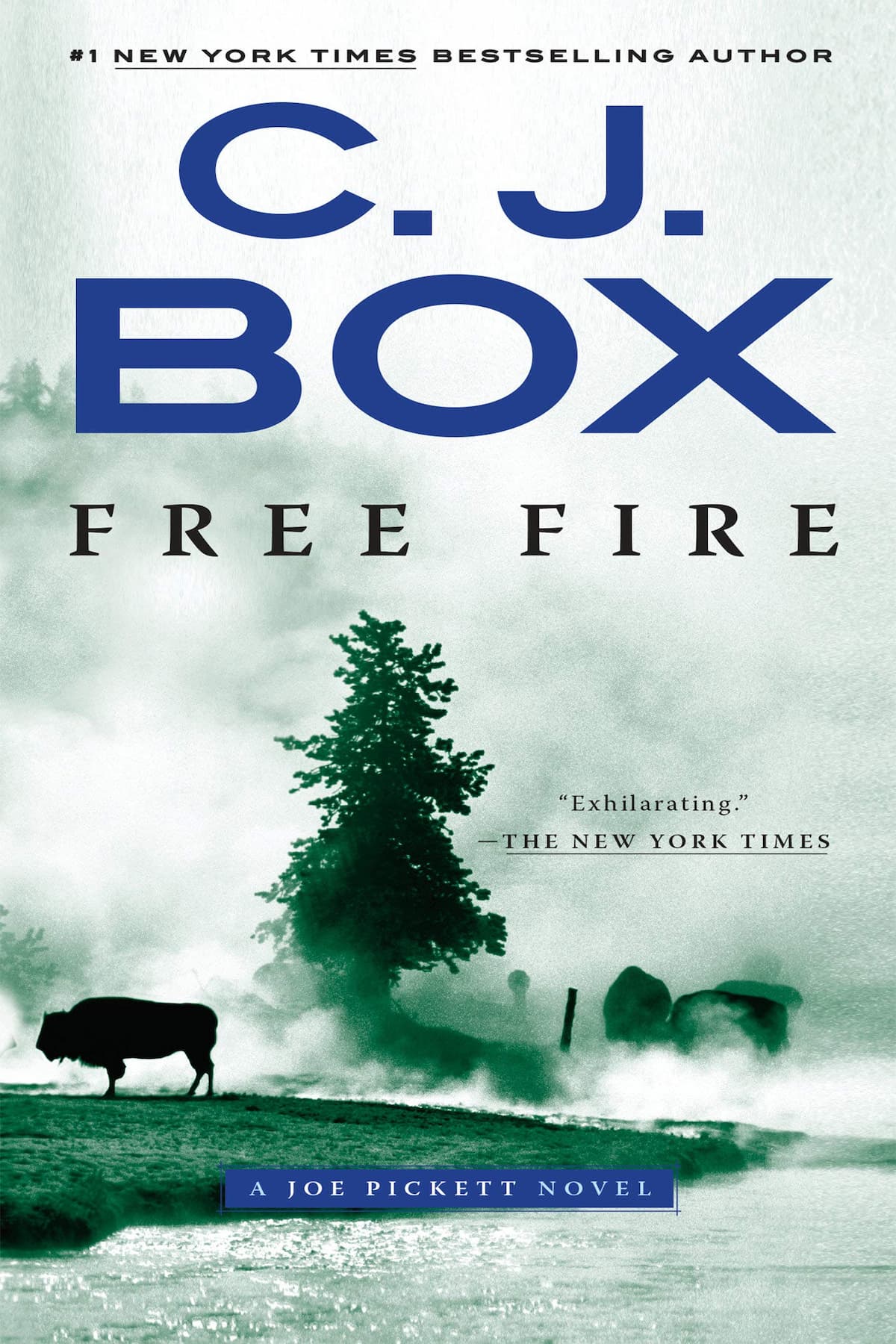 The book, Free Fire is considered one of CJ Box's masterpieces.
How to get free Free Fire – CJ Box?
Begin a 30-day trial of Audible Premium Plus to receive Free Fire by CJ Box for free. Just SIGN UP & SUBSCRIBE from my LINK and enjoy your FREE copy of Free Fire now!
READ ALSO: CJ Box Books In Order
What are the Free Fire Characters?
Joe Pickett: The protagonist of the story, Joe Pickett is a dedicated and courageous game warden. As he investigates the mass killings in Yellowstone, Joe's unwavering commitment to justice becomes the driving force behind the relentless pursuit of truth.
Clay McCann: The antagonist of the story, Clay McCann is the man responsible for the cold-blooded murders in the backcountry of Yellowstone. His motives are shrouded in mystery, and Joe Pickett must uncover the dark secrets hidden within the rugged terrain.
Free Fire – CJ Box Read Time
With its captivating storyline and masterful storytelling, "Free Fire" is a book that will keep you hooked from the very first page. On average, readers can expect to spend approximately 8 to 10 hours immersed in the gripping world created by CJ Box. Prepare to lose yourself in the heart-stopping action and the intricate web of intrigue that unfolds throughout the story.
To begin, is a fantastic weekend read. If you're one who enjoys recharging your energies during the holidays, you'll find "Free Fire" very helpful.
Free Fire – CJ Box – Details
About CJ Box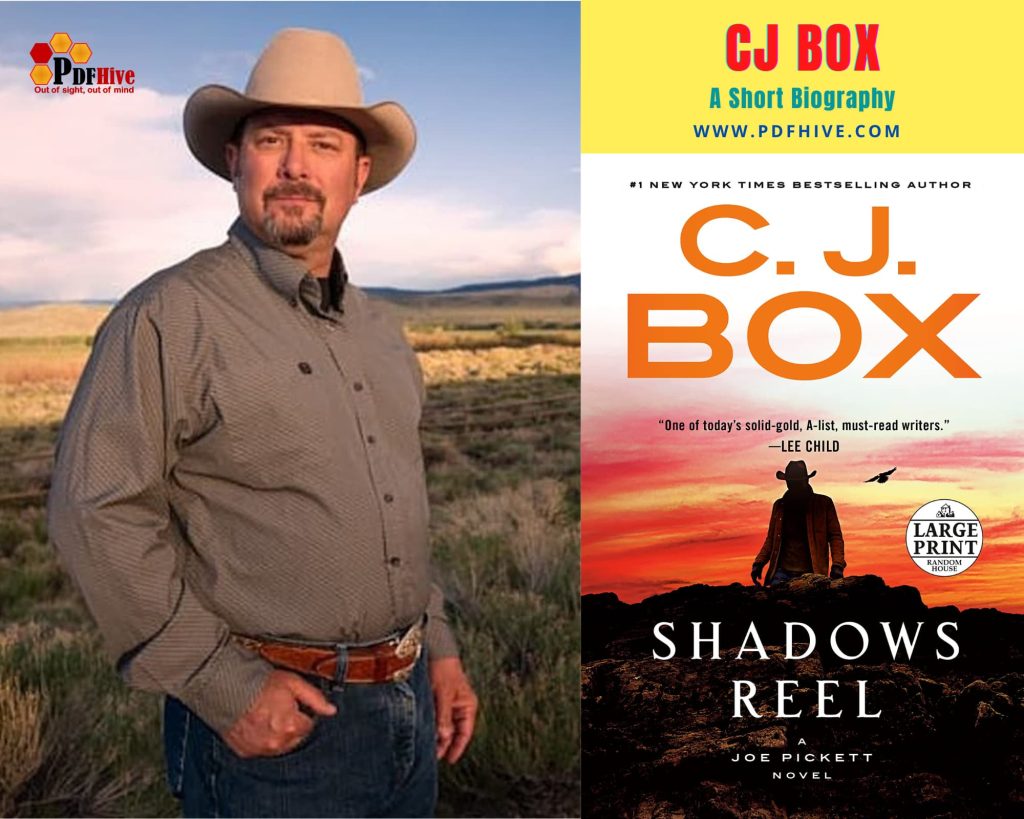 CJ, a prominent figure in contemporary literature, captivated readers with their profound storytelling and insightful narratives. Born with an innate curiosity and a love for words, CJ embarked on a literary journey that would shape their identity as a writer.
CJ's legacy as a gifted writer and a compassionate advocate continues to inspire future generations to embrace the transformative power of words for the betterment of society.
Recap of what we just learned
Free Fire – CJ Box
Genre of Free Fire by CJ Box
How to get free Free Fire – CJ Box?
What are the Free Fire Characters?
Free Fire – CJ Box Read Time
Free Fire – CJ Box – Details
About CJ Box – A Short Biography
CONCLUSION
In conclusion, "Free Fire" by CJ Box is a literary masterpiece that seamlessly weaves together elements of mystery, suspense, and adventure. This gripping thriller will leave readers enthralled and eagerly turning each page to unravel the enigmatic story. If you're a fan of pulse-pounding narratives and unforgettable characters, this book is a must-read.
We encourage you to share your thoughts and opinions on "Free Fire" by leaving a comment below. If you found this review informative and engaging, we kindly request that you consider providing a backlink to this article on your own website or blog. By doing so, you can help other readers discover the excitement and intrigue of "Free Fire" and join in on the discussion.
Thank you for taking the time to read our review of "Free Fire" by CJ Box. We hope this article has piqued your interest and that you will embark on this thrilling literary journey. Get ready to be captivated by the remarkable storytelling prowess of CJ Box and experience the adrenaline-fueled adventure of "Free Fire."
If you really enjoyed Free Fire by CJ Box, I'd be very thankful if you'd help it spread by emailing it to your friends or sharing it on Twitter, Reddit, Instagram, or Facebook. Thank you!
Did you read "Free Fire" by CJ Box on the way? Which one are you reading—and how similar are they? If you like Free Fire, you should read these books in the same genre.
GET 100% FREE ACCESS TO THIS BOOK BY SIGNING UP HERE!

Read More
Have you read "Free Fire" by CJ Box during your travels? Which other books are you currently reading, and how do they compare to "Free Fire"? If you enjoyed "Free Fire," I recommend exploring similar books within the same genre.