How to Draw Comics the Marvel Way: You know how it is. You intend to paint the barn or mow the lawn, tidy up your room, or write a book-but you keep putting it off because there are a zillion other things you'd rather do. Well, that's the way it was with me. I've spent so many years as editor, art director and writer of so many superhero yarns that I just couldn't bring myself to write the one book that I knew would have to be written sooner or later-the one book that Marvel fans everywhere always ask for when­ever I deliver one of my lilting little lectures on some campus or other. Namely, the book you're now so gratefully grasping in your pencil-smudged little paws.
By Stan Lee

Peace to all who follow guidance (20.47)
Go in Bottom to READ this book!!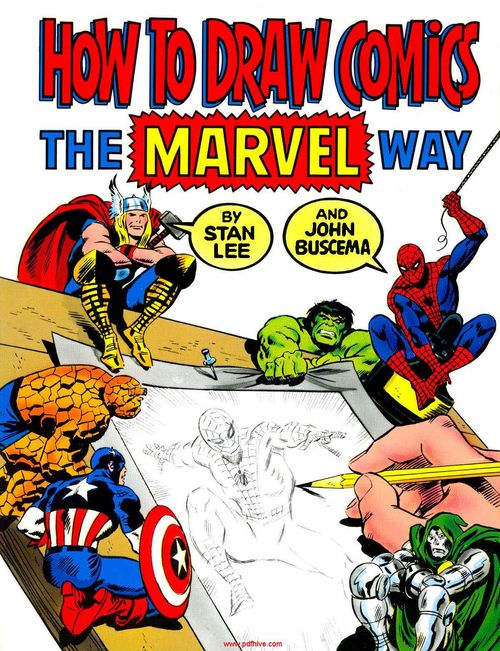 Contents of How to Draw Comics the Marvel Way:
The Tools and the Talk-of the Trade!
The Secrets of Form! Making an Object Look Real
The Power of-Perspective!
Let's Study The Figure!
Let's Draw the Figure!
The Name of the Game is-Action!
Foreshortening! The Knack of Drawing
Drawing the Human Head!
Draw Your Own Comicbook Page
The Comicbook Cover
The Art of Inking
The editors/writer of How to Draw Comics the Marvel Way:
Stan Lee
Information about How to Draw Comics the Marvel Way eBook

Book Name:
How to Draw Comics the Marvel Way
Writer/Editor:
Stan Lee
Language:
ENGLISH
Online Reading:
Yes (Full Book)
Android App:
No
PDF Download:
Yes (Full Book)
Available Format:
Online, PDF
Result:
HD (Printable)
Pages:
138
Size:
4.3 MB
Please click on the button below to read this book!

For further visit again www.PDFHive.com
If you need any PDF eBook plz write in the comment box. Your interest is appreciated.
Related Articles



About CEO of PDF-Hive

Shokat Javed
M.Phil Computer Sciences (SE)
Android App Developer (Native JAVA)
WordPress Web Developer/Administrator
Graphic Designer, Blogger
WhatsApp: +92 3056275237