How to Study 7th Edition: Learning how to study is learning how to learn. And that is, to me, the greatest experience you can ever give yourself…or your children. According to my opinion whenever I give learning experience to my children I feel world's unique pleasure.
Yes, How to Study includes hints, advice, and techniques for taking notes in class, while you're reading your textbooks, in the library, and online; how to prepare for tests; and how to organize your study schedule to get the best results in the shortest amount of time. But that's only half of the book. There are essential skills you may think have nothing to do with studying, and important steps you need to take right from the start.
By Ron Fry

Go in Bottom to READ this book!!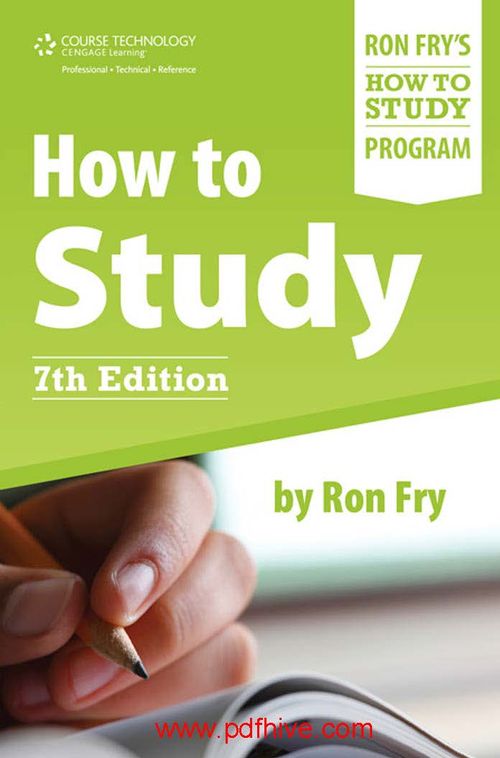 Contents of How to Study 7th Edition:
Introduction-xi
Chapter 1: How to Start Out Right-1
Chapter 2: How to Organize Your Studying-15
Chapter 3: How to Read and Remember-45
Chapter 4: How to Organize Your TIme-75
Chapter 5: How to Excel in Class-101
Chapter 6: How to Conduct Your Research-123
Chapter 7: How to Write Terrific Papers-133
Chapter 8: How to Study for Tests-171
Epilogue-217
Index-219
The editors/writer of the book How to Study 7th Edition:
Ron Fry
Information about How to Study 7th Edition eBook

Book Name:
How to Study 7th Edition
Writer/Editor:
Ron Fry
Language:
ENGLISH
Online Reading:
Yes (Full Book)
Android App:
No
PDF Download:
Yes (Full Book)
Available Format:
Online, PDF
Result:
HD (Printable)
Pages:
242
Size:
1.32 MB
Please click on the button below to read this book!

For further visit again www.PDFHive.com
If you need any PDF eBook plz write in comment box. Your interest is appreciated.
Related Articles



[pt_view id="4ad06b756q"]
About CEO of PDF-Hive

Shokat Javed
M.Phil Computer Sciences (SE)
Android App Developer (Native JAVA)
WordPress Web Developer/Administrator
Graphic Designer
Blogger
WhatsApp: +92 3056275237
WeChat ID: YourInfoMaster
YIM