Teaching Organic Farming & Gardening: Resources for Instructors was first produced in 2003 in response to the many requests from those interested in the curriculum offered each year by the Apprenticeship in Ecological Horticulture (see page vi) through the Center for Agroecology & Sustainable Food Systems (CASFS, the Center) at the University of California, Santa Cruz. A second edition with updated information and resources followed in 2005.
This book is for those who want to cultivate and promote healthy and organic foods.
By Martha Brown

Go in Bottom to READ this book!!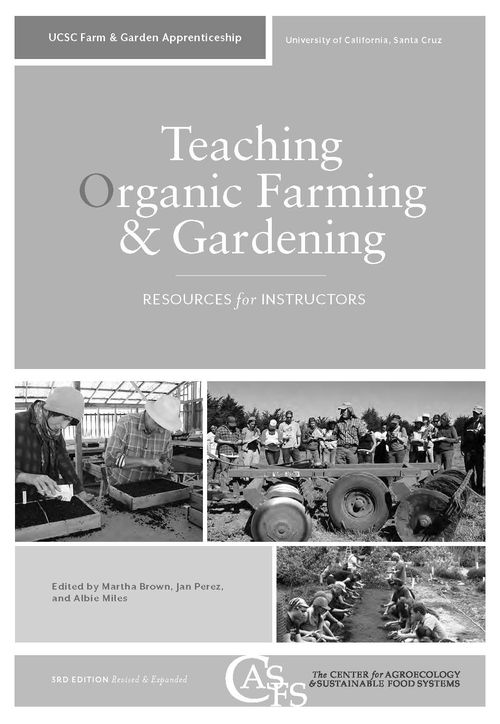 Contents of Teaching Organic Farming & Gardening:
Foreword v
About CASFS and the Farm & Garden Apprenticeship vi
Preface vii
Acknowledgments viii
Contributors and Reviewers ix
How To Use This Resource xii
Part 1 Organic Farming and Gardening Skills and Practices
Unit 1.1 Managing Soil Health 1–3
Unit 1.2 Garden and Field Tillage and Cultivation 1–31
Unit 1.3 Propagating Crops from Seed, 1–95
and Greenhouse Management
Unit 1.4 Transplanting and Direct Seeding 1–165
Unit 1.5 Irrigation—Principles and Practices 1–203
Unit 1.6 Selecting and Using Cover Crops 1–263
Unit 1.7 Making and Using Compost 1–295
Unit 1.8 Managing Arthropod Pests 1–341
Unit 1.9 Managing Plant Pathogens 1–371
Unit 1.10 Managing Weeds 1–393
Unit 1.11 Reading and Interpreting Soil Test Reports 1–429
Part 2 Applied Soil Science
Unit 2.1 Soils and Soil Physical Properties 2–3
Unit 2.2 Soil Chemistry and Fertility 2–49
Unit 2.3 Soil Biology and Ecology 2–83
Part 3 Social and Environmental Issues in Agriculture
Unit 3.1 The Development of U.S. Agriculture 3–3
Unit 3.2 Social Issues in Modern Agriculture 3–31
Unit 3.3 Environmental Issues in Modern Agriculture 3–53
Unit 3.4 Sustainable Agriculture and Sustainable 3–73
Food Systems
The editors/writer of the book Teaching Organic Farming & Gardening:
Martha Brown
Information about Teaching Organic Farming & Gardening eBook

Book Name:
Teaching Organic Farming & Gardening
Writer/Editor:
Martha Brown
Language:
ENGLISH
Online Reading:
Yes (Full Book)
Android App:
No
PDF Download:
Yes (Full Book)
Available Format:
Online, PDF
Result:
HD (Printable)
Pages:
704
Size:
5.11 MB
Please click on the button below to read this book!

For further visit again www.PDFHive.com
If you need any PDF eBook plz write in comment box. Your interest is appreciated.
Related Articles



[pt_view id="4ad06b756q"]
About CEO of PDF-Hive

Shokat Javed
M.Phil Computer Sciences (SE)
Android App Developer (Native JAVA)
WordPress Web Developer/Administrator
Graphic Designer, Blogger
WhatsApp: +92 3056275237