Color Theory: Just as a point space can be defined by is position in the three special dimensions (height, width, depth), color also has its own three dimensions. Any single color can be described by its three dimensions.
Three dimensions of color
• Hue
• Chroma
• Value
Basic terms & concepts:
• Color as light
• The visible spectrum
• wavelengths
• White light
• Reflection, Transmission, Absorption, Refraction
• Additive Color vs. Subtractive Color
• Light Primaries vs. Pigment Primaries
Color as Light
• Every color you have ever seen was due to colored light.
• Your eye sees only light–never the surface, never a pigment, paint or dye, and never the object.
• The nerves at the back of our eye are photo-sensors –they respond to light.
• Since we see light, but we most often mix pigment –in paint, or ink, or dyes –we must understand both color as light and color as a pigment. That is, we must understand additive color (light) and subtractive color (pigment)
Peace to all who follow guidance (20.47)
Go in Bottom to READ this book!!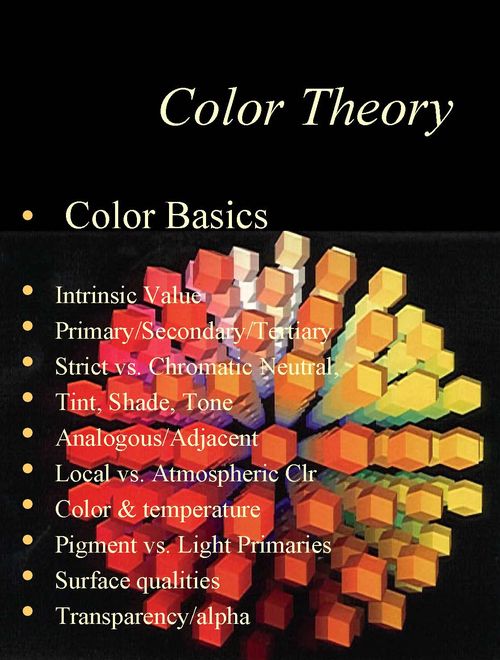 Contents of Color Theory:
• Intrinsic Value
• Primary/Secondary/Tertiary
• Strict vs. Chromatic Neutral,
• Tint, Shade, Tone
• Analogous/Adjacent
• Local vs. Atmospheric Clr
• Color & temperature
• Pigment vs. Light Primaries
• Surface qualities
• Transparency/alpha
The editors/writer of the book Color Theory:
–
Information about Color Theory eBook

Book Name:
Color Theory
Writer/Editor:
–
Language:
ENGLISH
Online Reading:
Yes (Full Book)
Android App:
No
PDF Download:
Yes (Full Book)
Available Format:
Online, PDF
Result:
HD (Printable)
Pages:
88
Size:
4.3 MB
Please click on the button below to read this book!

For further visit again www.PDFHive.com
If you need any PDF eBook plz write in the comment box. Your interest is appreciated.
Related Articles



About CEO of PDF-Hive

Shokat Javed
M.Phil Computer Sciences (SE)
Android App Developer (Native JAVA)
WordPress Web Developer/Administrator
Graphic Designer, Blogger
WhatsApp: +92 3056275237