Encyclopedia of Comic Books and Graphic Novels: Comic books have long been among the least respected forms of American popular culture, often regarded as mindless entertainment for kids, yet sometimes regarded as dangerous bad infl uences unsuitable for kids.
That has all begun to change, especially in the past two decades, when comic book authors and artists such as Alan Moore, Frank Miller, and Neil Gaiman have gained increasing critical acclaim for the complexity and sophistication of their work and when the publishing phenomenon known as the "graphic novel"—which allows for longer and more complex single-volume narratives in the comics as a medium—has provided a new and more respected outlet for the comics art form.
Th e history of comic books is vast and complex, and these two volumes cannot hope to be comprehensive, so some practical (but often di ffi cult) decisions have had to be made regarding content.
Go in Bottom to READ this book!!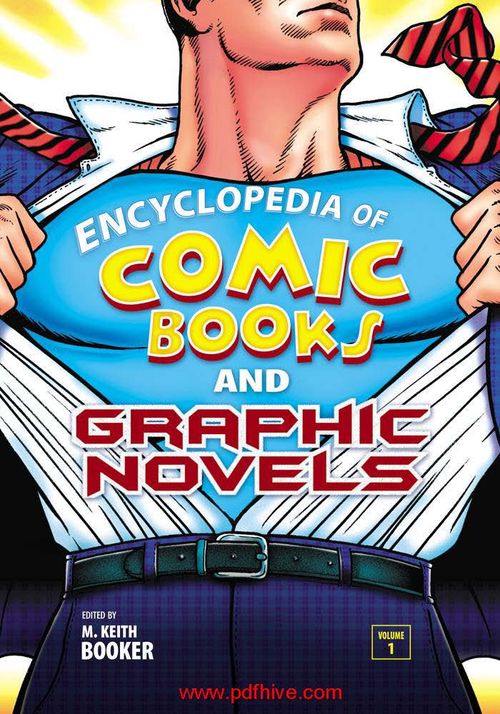 Contents of Encyclopedia of Comic Books and Graphic Novels:
Alphabetical List of Entries
Action Comics
Adams, Neal
Adaptations from Other Media Adventure Comics
Ages of Comics
Alice in Sunderland
All-American Comics
Allred, Mike
All-Star Comics
Alpha Flight
Amazing Fantasy
American Born Chinese American Flagg!
American Splendor
Ant-Man
Aquaman
Archie
Arkham Asylum
Astro City
Authority
Avengers
Azzarello, Brian
Bagge, Peter
Baker, Matt
Barefoot Gen
Barks, Carl
Barry, Lynda
Batman
Batman & Dracula
Bendis, Brian Michael
Binky Brown Meets the Holy Virgin
Mary
Birth of a Nation
Black Condor
Blackhawk
Black Hole
Black Panther
Black Widow
Blankets
Blue Beetle, Th e
Blueberry
Bone
Brown, Chester
Brubaker, Ed
Buddha
Busiek, Kurt
Byrne, John
The editors/writer of the book Encyclopedia of Comic Books and Graphic Novels:
M. Keith Booker
Information about Encyclopedia of Comic Books and Graphic Novels eBook

Book Name:
Encyclopedia of Comic Books and Graphic Novels
Writer/Editor:
M. Keith Booker
Language:
ENGLISH
Online Reading:
Yes (Full Book)
Android App:
No
PDF Download:
Yes (Full Book)
Available Format:
Online, PDF
Result:
HD (Printable)
Pages:
788
Size:
8.75 MB
Please click on the button below to Read this book!

For further visit again www.PDFHive.com
If you need any PDF eBook plz write in comment box. Your interest is appreciated.
Related Articles



[pt_view id="4ad06b756q"]
About CEO of PDF-Hive

Shokat Javed
M.Phil Computer Sciences (SE)
Android App Developer (Native JAVA)
WordPress Web Developer/Administrator
Graphic Designer
WhatsApp: +92 3056275237