PPSC exam conducted by Government of Punjab Pakistan. Physics Lecturer PPSC, NTS, FPSC, SST, MDCAT, ECAT, Headmaster MCQ eBook will cover the Physics portion of the physics lecturer syllabus. The remaining syllabus will be of computer MCQs, General Knowledge science, everyday science, mental science and current affairs. This pdf ebook will also covers the NTS, GAT, PPSC, FPSC tests for educators, teachers, headmasters, headmistresses and lecturers job.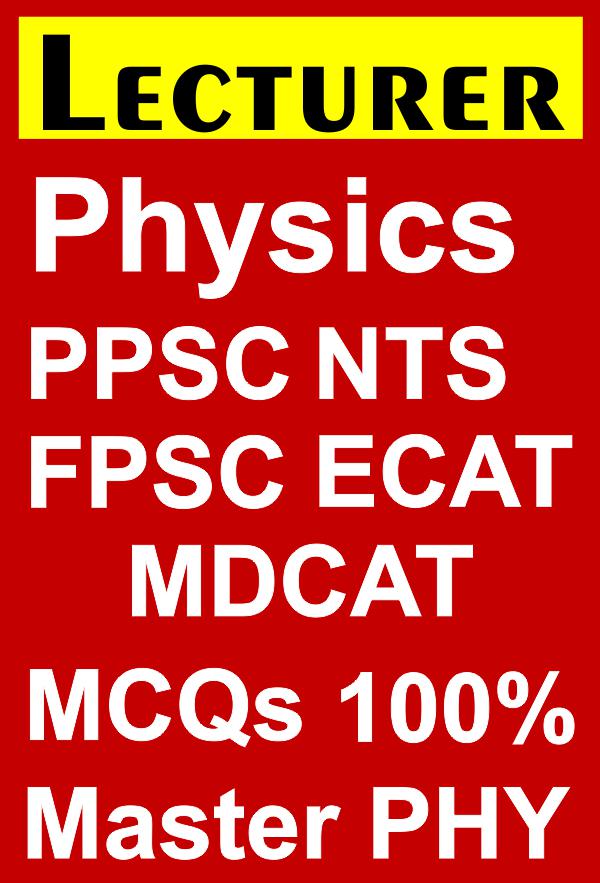 Physics Lecturer PPSC, NTS, FPSC, SST, MDCAT, ECAT, Headmaster MCQ eBook has the following chapters:
Unit-1: MEASUREMENT
Unit-2: MOTION ALONG A STRAIGHT LINE
Unit-3: VECTORS
Unit-4: MOTION IN TWO AND THREE DIMENSIONS
Unit-5: FORCE AND MOTION – I
Unit-6: FORCE AND MOTION – II
Unit-7: KINETIC ENERGY AND WORK
Unit-8: POTENTIAL ENERGY AND CONSERVATION OF ENERGY
Unit-9: CENTER OF MASS AND LINEAR MOMENTUM
Unit-10: ROTATION
Unit-11: ROLLING, TORQUE, AND ANGULAR MOMENTUM
Unit-12: EQUILIBRIUM AND ELASTICITY
Unit-13: GRAVITATION
Unit-14: FLUIDS
Unit-15: OSCILLATIONS
Unit-16: WAVES – I
Unit-17: WAVES – II
Unit-18: TEMPERATURE, HEAT, AND THE FIRST LAW OF THERMODYNAMICS
Unit-19: THE KINETIC THEORY OF GASES
Unit-20: ENTROPY AND THE SECOND LAW OF THERMODYNAMICS
Unit-21: ELECTRIC CHARGE
Unit-22: ELECTRIC FIELDS
Unit-23: GAUSS' LAW
Unit-24: ELECTRIC POTENTIAL
Unit-25: ELECTRIC POTENTIAL
Unit-26: CURRENT AND RESISTANCE
Unit-27: CIRCUITS
Unit-28: MAGNETIC FIELDS
Unit-29: MAGNETIC FIELDS DUE TO CURRENTS
Unit-30: INDUCTION AND INDUCTANCE
Unit-31: ELECTROMAGNETIC OSCILLATIONS AND ALTERNATING CURRENT
Unit-32: MAXWELL'S EQUATIONS; MAGNETISM AND MATTER
Unit-33: ELECTROMAGNETIC WAVES
Unit-34: IMAGES
Unit-35: INTERFERENCE
Unit-36: DIFFRACTION
Unit-37: SPECIAL THEORY OF RELATIVITY
Unit-38: PHOTONS AND MATTER WAVES
Unit-39: MORE ABOUT MATTER WAVES
Unit-40: ALL ABOUT ATOMS
Unit-41: CONDUCTION OF ELECTRICITY IN SOLIDS
Unit-42: NUCLEAR PHYSICS
Unit-43: ENERGY FROM THE NUCLEUS
Unit-44: QUARKS, LEPTONS, AND THE BIG BANG
The editors/writer of the book are:
Shokat Javed
Sample Pages
Click to enlarge image!!!
Information about Pdf eBook

Book Name:
Physics Lecturer PPSC, NTS, FPSC, SST, MDCAT, ECAT, Headmaster MCQ eBook
Writer/Editor:
Shokat Javed
Language:
Urdu
Online Reading:
Yes (Full Book)
Android App:
No
PDF Download:
Yes (Full Book)
Available Format:
Online, PDF, Android App
Result:
HD (Printable)
Pages:
655
Size:
2.7 MB
Please click on button below to download this book!
Related Books:
For further visit again www.PDFHive.com
If you need any PDF eBook plz write in comment box. Your interest is appreciated.