Chemistry 12 textbook FSc Part-2 is helpful for students, teachers and lecturers. Major Chemistry topics are branches of chemistry, atoms, solutions and Chemical Reactivity. This textbook contains the full syllabus for Chemistry 12th class PTB. It is very helpful to prepare NTS, GAT, PPSC, FPSC tests for educators, teachers, headmasters, headmistresses and chemistry lecturers.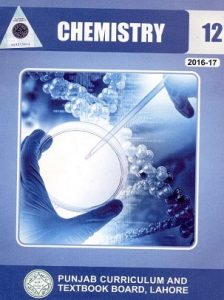 Chemistry 12 Textbook FSc Part-2 has the following chapters:
Chapter 01: Periodic Classification Of Elements And Periodicity
Chapter 02: S-Block Elements
Chapter 03: Group III-A And Group IV-A Elements
Chapter 04: Group V-A And Group VI-A Elements
Chapter 05: Halogen And Noble Gases
Chapter 06: Transition Elements
Chapter 07: Fundamental Principles Of Organic Chemistry
Chapter 08: Aliphatic Hydrocarbons
Chapter 09: Aromatic Hydrocarbons
Chapter 10: Alkyl Halides
Chapter 11: Alcohols, Phenols And Ethers
Chapter 12: Aldehydes And Ketones
Chapter 13: Carboxylic Acids
Chapter 14: Macromolecules
Chapter 15: Common Chemicals Industries In Pakistan
Chapter 16: Environmental Chemistry
The editors of the book are:
Prof. Dr. Jameel Anwar
Prof. Dr. M. Akram Kashmiri
Prof. Dr. Abid Zia
Prof. Dr Saman Jameel
Sample Pages!
Click to enlarge image!!!
[ngg src="galleries" ids="7″ display="basic_slideshow"]
Information about Pdf eBook

Book Name:
Chemistry 12 Textbook FSc Part-2
Writer:
Prof. Dr. Jameel Anwar
Language:
English
Online Reading:
Yes (Full Book)
Android App:
No
PDF Download:
Yes (Full Book)
Available Format:
Online, PDF
Result:
HD (Printable)
Pages:
339
Size:
18 MB
Please click on button below to download this book!

For further visit again www.PDFHive.com
Related Books: