Politics The Basics 4th Edition: This book is designed as a basic introduction to twenty-first century politics. We do not claim to be able to predict with certainty the political shape of the new century.
However, it is already clear that many of the old perspectives of superpower rivalry and class and ideological warfare which dominated the era of the Cold War seem to be of reduced relevance. Issues such as ecology, new technology, Islam, terrorism, feminism and the role of what used to be described as the Third World (referred to as 'the South' in this book) are likely to move to centre stage. An introduction to politics that takes a parochial single-country approach no longer seems sensible in an era of increased international interdependence.
Go in Bottom to READ this book!!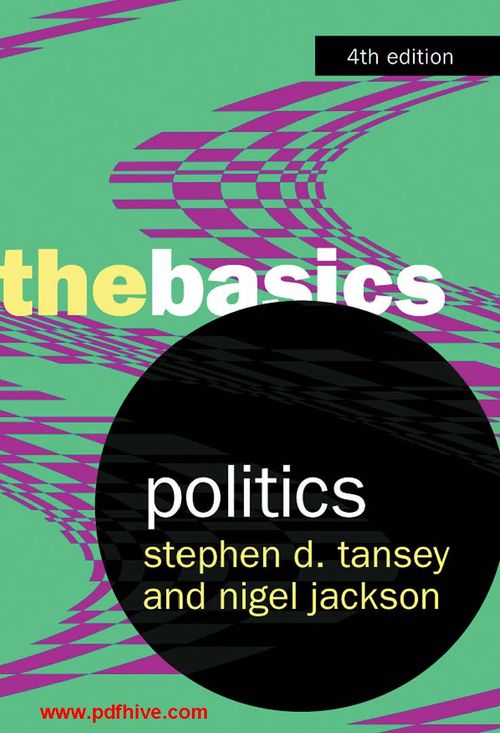 Contents of Politics The Basics 4th Edition:
List of illustrations
Preface
Acknowledgements
Politics
This chapter . . .
Politics in everyday life
What is politics?
Approaches to the study of politics Traditional scholarship
Social science and politics Schools of political science Theories, models, paradigms Radical and postmodernist criticism Conclusion
Recommended reading
WebsitesThis chapter . . .
Human nature and politics
Is the state necessary?
Why should i obey the state?The nature of authority
What is justice?
Individualism versus collectivism Rights: natural, human, legal Equality
Positive and negative freedom Analysing political concepts Recommended reading Websites
The editors/writer of the book Politics The Basics 4th Edition:
Stephen D. Tansey
Information about Politics The Basics 4th Edition eBook

Book Name:
Politics The Basics 4th Edition
Writer/Editor:
Stephen D. Tansey
Language:
ENGLISH
Online Reading:
Yes (Full Book)
Android App:
No
PDF Download:
Yes (Full Book)
Available Format:
Online, PDF
Result:
HD (Printable)
Pages:
297
Size:
1.43 MB
Please click on the button below to read this book!

For further visit again www.PDFHive.com
If you need any PDF eBook plz write in comment box. Your interest is appreciated.
Related Articles



About CEO of PDF-Hive

Shokat Javed
M.Phil Computer Sciences (SE)
Android App Developer (Native JAVA)
WordPress Web Developer/Administrator
Graphic Designer
WhatsApp: +92 3056275237