Math 10 Urdu Medium Punjab Textbook Board gives you power to solve everyday math problems in efficient way. Mathematics is the tool specially suited for dealing with abstract concepts of any kind and there is no limit to its power in this field. Mathematics as "the Queen of the Sciences", it is used in every branch of science like biology, chemistry and physics. Proofs of scientific laws are derived with the help of math.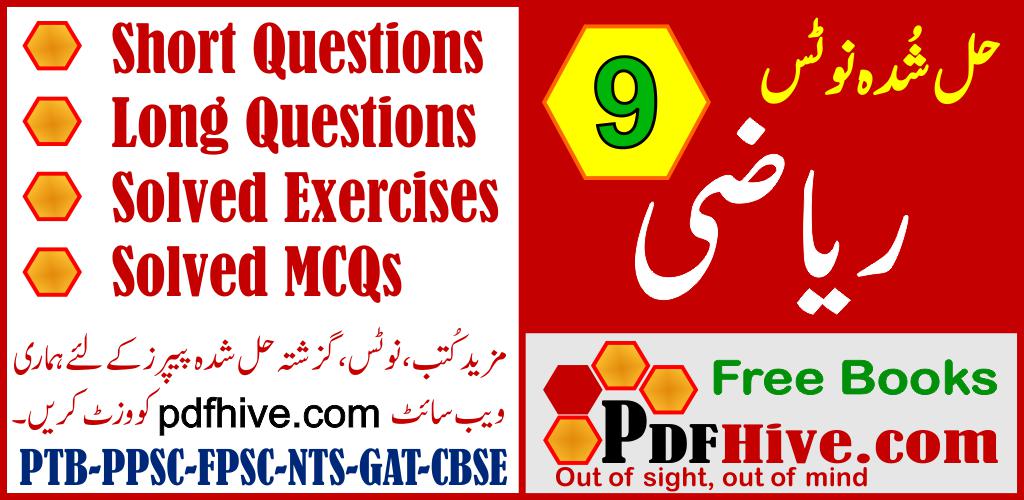 Book Contents:
Chapter-01: Quadratic Equation
Chapter-02: Theory of Quadratic Equation
Chapter-03: Variations
Chapter-04: Partial Fractions
Chapter-05: Set & Functions
Chapter-06: Basic Statistics
Chapter-07: Introduction to Trignometry
Chapter-08: Projection of a Side of a Triangle
Chapter-09: Chords of a Circle
Chapter-10: Tangent to a Circle
Chapter-11: Chords & Arcs
Chapter-12: Angle in a Segment of a Circle
Chapter-13: Practical Geometry (Circles)
Our upcoming Books
12th class math key book
11th class math key book
10th class math key book
9th class math key book
Physics class 10
Math 10 Solved Urdu Medium
Math 10 Solutions
Mathematics formals
Mathematics books
Mathematics solution
Importance of mathematics
Math games
Math solver
Exams Coverage:
All above boards students can use this book app to get best exams result. NTS, PPSC Math lecturers, FPSC math lecturer, Math SST preparation, Headmaster and headmistress exams preparation. PDFhive.com is reliable company to produce quality educational material. PDF Hive is a free PDF search engine which allows you to search, preview and download millions of PDF files and android app books into your devices. Our team is constantly scanning the world wide web to add PDF files and app books to database. Our PDF Hive library stays up-to-date, while continuously growing and offering you an enormous book apps to read.
The editors/writer of the book are:
–
Sample Pages
Click to enlarge image!!!
Information about Math 10 Urdu Medium Punjab Textbook Borad Pdf eBook

Book Name:
Math 10 Urdu Medium Punjab Textbook
Writer/Editor:
–
Language:
Urdu
Online Reading:
Yes (Full Book)
Android App:
Yes
PDF Download:
Yes (Full Book)
Available Format:
Online, PDF, Android App
Result:
HD (Printable)
Pages:
320
Size:
35.9 MB
Please click on button below to download this book!
Related Books:
For further visit again www.PDFHive.com
If you need any PDF eBook plz write in comment box. Your interest is appreciated.